With the revised Federal solar bonus now at the lower 3x multiplier I started wondering how this is impacting solar panel installation offers. This add is the cheapest I've noticed in the current local freebie newspaper for Gold Coast (The Sun). July 2011 $2990 for 1.52kW system, which equates to $1.97/W installed (after STCs).
Seems a very good price, has anyone seen better?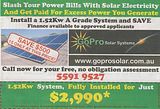 Declaration: I have no connection whatsoever with this company. I'm just trying to establish what the installed prices are around the country at the moment. D69 tells us in Adelaide it's $4.30/W, which seems comparitively expensive.